2015 in Music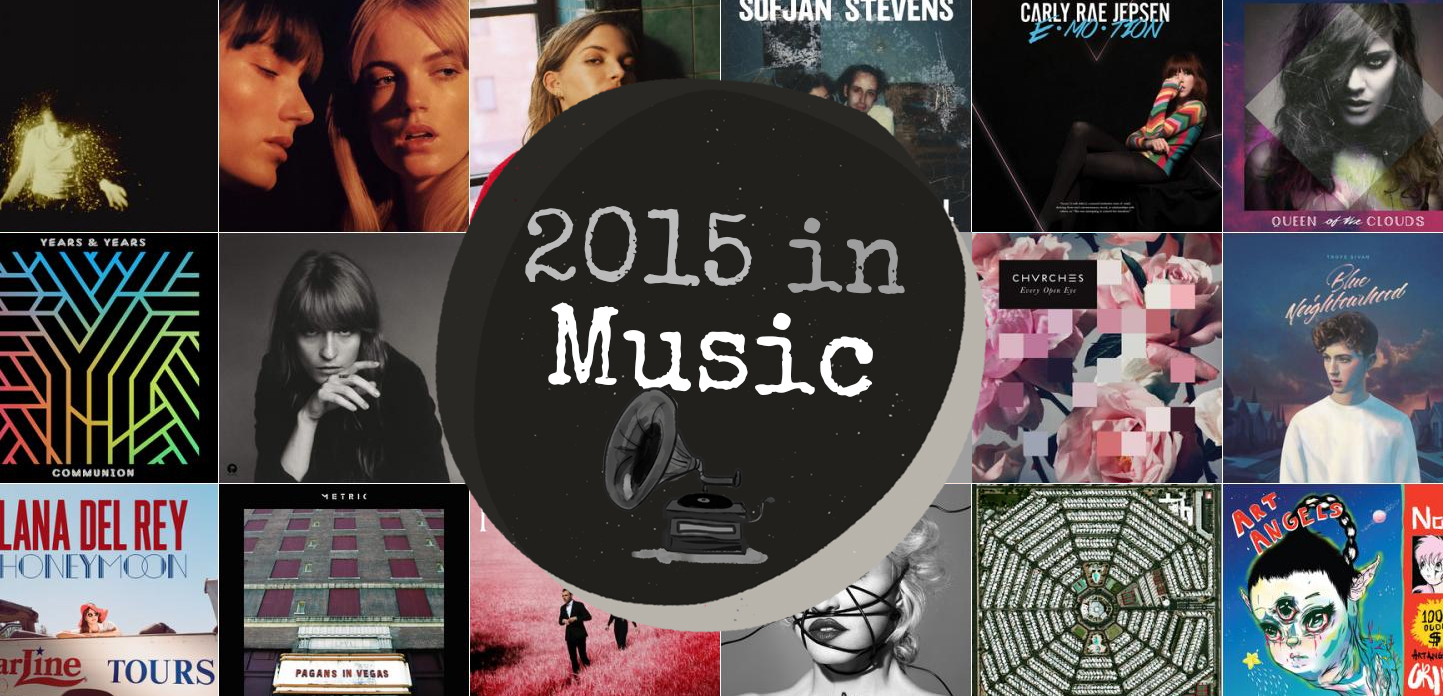 Twenty fifteen. The year Zayn Malik broke a million hearts and made sworn enemies of Little Mix. A 12 month period in which no one sold any records, unless their name was Adele. Taylor Swift's glamazon squad now rivals Wales in terms of population, if not demographics; Coldplay are still going, apparently; and Sam Smith just keeps getting more irritating. Hello, discerning pop lover. It's me. Let's go over some stuff. 
Song of the year: Years & Years - King
https://www.youtube.com/watch?v=g_uoH6hJilc
Sounds every bit as fresh now as it did the second time I heard it. First time round I thought it was quite irritating - proof, readers, that I rarely have any idea what I'm talking about.
Also very good: Carly Rae Jepsen - Run Away With Me, Carly Rae Jepsen - Your Type, Say Lou Lou - Nothing But A Heartbeat, Troye Sivan - Wild, Tove Styrke - Ego, Giorgio Moroder feat. Britney - Tom's Diner, Taylor Swift - Style, Chvrches - Leave a Trace
Album of the year: Sufjan Stevens - Carrie & Lowell
A perfect, beautiful record as good as anything Sufjan has ever recorded. Stripped back to basics like Age of Adz never happened, Carrie & Lowell doesn't need clattering bombast to make itself heard. The closing moments of Death With Dignity ("you'll never see us again") are quietly devastating.
https://www.youtube.com/watch?v=dsGODTySH0E
Also - can you believe it's been ten bloody years since Illinois?
https://www.youtube.com/watch?v=4uFEOBJBiWg
These weren't bad either: Carly Rae Jepsen - Emotion, Grimes - Art Angels, Tove Styrke - Kiddo, Say Lou Lou - Lucid Dreaming, Wolf Alice - My Love Is Cool, Troye Sivan - Blue Neighbourhood
Unexpected Addition to Pantheon of All-Time Christmas Classics Award, sponsored by Kelly Clarkson's Under the Tree: Kylie Minogue - Every Day's Like Christmas (A Stock Aitken Waterman Remix)
Tomorrow marks the bleak moment I must retire this from my Gym, Cooking and Miming-In-Bathroom-While-Brushing-Teeth playlists for 11 long months, but what a surprise festive delight Kylie Christmas turned out to be. Every Day's Like Christmas is all the joy and life so conspicuously absent from last year's Kiss Me Once, folded and ribboned into one neat 3 minute parcel.
https://www.youtube.com/watch?v=b2_HFWUVznI
Note to other popstars: this does not mean I condone the Christmas Covers Album as acceptable practice. Katy Perry, I'm talking to you. Step away from the sleigh bells. And the microphone. In fact, just go away. Thanks!
If I had to save one track off E•MO•TION from a hypothetical iTunes fire
Well, firstly, I would cry. Hasn't Carly suffered enough this year? To painstakingly hone and craft the best pop record since 1989*, only to spawn more BuzzFeed think pieces than album sales? D•es•pair. And also, ow, on fire.
Grraaaaaghnnngh. A difficult, fandom-dividing choice. For me, Your Type's summation of unrequited love just trumps Run Away With Me's horns.
https://www.youtube.com/watch?v=_98VZT9s7M0
* Taylor Swift album rather than years, obvs
Days since the last official tweet from Mutya Keisha Siobhan: 
648
Here's hoping 2016 brings something more substantial than vague rumblings of copyright victory and a single, solitary leaked album track. Make it work this time...
https://www.youtube.com/watch?v=j7cp5mU_GZ8
Best Album by Someone Called Tove Award, in Honor of the Late Tove Jansson: TOVES LO & STYRKE, FOR QUEEN OF THE CLOUDS AND KIDDO RESPECTIVELY
Yet another great year for fans of Scandipop, and an unprecedented treat for appreciators of names deriven from Old Norse word Tófa. If I had to choose between them Lo's sneaky co-writer credit on Girls Aloud's Something New would probably swing it in her favour, but that's not to say Styrke isn't also completely tremendous.
Best bits: Ain't Got No..., Ego, Who's Got News, Burn
Best bits: My Gun, Talking Body, Thousand Miles, Habits (Stay High)
The Jeremy Vine Award for Surprisingly Good Song first heard on the BBC Radio 2 Jeremy Vine Show: Nell Bryden feat. Tom McRae - Waves
Sometimes, if not always, Jeremy's lunchtime show on Radio 2 can be the source of something other than complete and abject horror at the maniacs I'm apparently expected to share this country with.
Sometimes.
https://www.youtube.com/watch?v=SGSYkExkPUM
In unrelated news, my thirtieth birthday's less than two years away!
Have I listened to Adele's 25 yet?
Controversial opinion alert: Adele's basically the 2015 equivalent of Dido. Except funnier. And more popular. Oh, and I played Life For Rent until my CD player melted, unlike 25, which I don't even own digitally. Okay so maybe it's not the strongest comparison but I'm sure you get what I mean.
Best Music Video of the Year: Hurts - Lights
https://www.youtube.com/watch?v=N03wDhoXU-g
I'm starting to get bored now so here's what I said when it was first released:
"THEO OUT OF HURTS. MY GOD. My heart is yours. Pop stardom is yours, forever. Take it, take it all."
Yup, still sounds about right.
The Annie Award for Amazing Surprise Annie Release: ANNIE
Yet again, Annie and Richard X manage in an EP what most other acts can't in a lifetime - four perfectly formed pop nuggets, packaged up in a typically hilarious cassette-themed CD release. Cara Mia shines brightest, completing a trifecta of summer classics alongside previous Annie gems Anthonio and Back Together.
https://www.youtube.com/watch?v=ym8is0n1iRs
For the love of god will someone just force this pair into a studio for however long a new album takes.
Little Mix are still the best girl band in the world
I liked Black Magic, but their continued reign owes more to Jesy's 'Jamaican' 'accent' than music this year.
https://www.youtube.com/watch?v=kqnS2LzyDOs
(Sorry Fifth Harmony - Sledgehammer's a banger and all, but you're not going to top whatever just happened *replays for the millionth time*)
Album campaign most in need of Coco Chanel's sartorial advice: Madonna's Rebel Heart
Firstly, Madonna - thank you. What a complete fucking pleasure it was to hear you singing actual songs again. At its best, Rebel Heart managed to both echo previous triumphs (Living For Love = Like A Prayer, thirty years on) and offer up something new for 2015. That hat in the Ghosttown video, Madonna!
https://www.youtube.com/watch?v=GgDxv0Qg_Rg
But come on. As exciting as it all was, you should have glanced at a mirror before heading out in your Stevie Nicks finest and taken something - anything - off. Eight superfluous Rebel Heart bonus tracks, perhaps? The third or fourth album art variations? Your misjudged Nelson Mandela/Martin Luther King/Anne Frank photoshop spree?
Or how about the cape. Let's lose the cape.
Villains of the Year: Poo Bear, The Mogul, Diplo, Skrillex, Benny Blanco, Soundz, The Audibles, and anyone else involved with Justin Bieber's Purpose album
How DARE you produce a Bieber record I found myself not only LISTENING to, but actively ENJOYING? The fuck, weirdly nicknamed music dudes?
https://www.youtube.com/watch?v=8ELbX5CMomE
God knows what they have planned for 2016. Production duties for Katy Perry? The Red Hot Chili Peppers? LOUIS TOMLINSON??!?!?
2015 in Excellent Cover Art
One Direction: A Definitive Ranking
Harry Styles
A pair of old socks Zayn left behind
Niall Horan
Bye boys, it's been a fun - and occasionally even tuneful - five years. And to think none of it would have happened without Nicole Scherzinger.
https://www.youtube.com/watch?v=Ho32Oh6b4jc
Decent acts I forgot to mention in the above and feel bad about, though not so bad that I'm hastily writing something before posting
Metric
Wolf Alice
Nerina Pallot
Lana Del Rey
Idlewild
Marina & the Diamonds (I do this every time sorry Marina I don't know what it is about you)
Florence '+' the Machine
Foals
Troye Sivan, Say Lou Lou and Grimes all deserved more than their fleeting mentions
Bleachers
Natalie Prass
Drake's Hotline Bling
The two tolerable tracks on Ellie Goulding's album
2015 Banger to Bring in the Bells
https://www.youtube.com/watch?v=XDBJVgIVPcs
Oh the weird, disjointed moves I'd pull to this if I actually went out on Hogmanay.
Goodbye, 2015 - you've been a good one. And hello, 2016! Quick word of warning: If Michelle Branch doesn't get round to releasing an album in the next 12 months I WILL STAB MY OWN EARS OUT.
Thanks for reading. See you on the other siiiiiiide etc etc