GIF of the week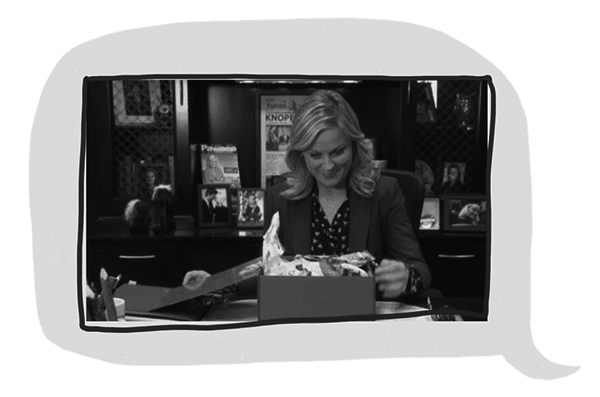 Leslie Knope's box of trash
As in...
Jim Chapman's 'WHAT I'M LOVING THIS FEB', a swamp-mic'd ode to his own, heroic carbon reduction efforts (précis: drinking out of a glass bottle when not on planes), some fugly rust-coloured cordoruy shirt he 'designed', and that Sapiens book literally EVERYONE has already read.
Also as in...
Thorgy Thor's return to RuPaul's Drag Race All Stars 3, endless stream of pressed workroom confessionals (précis: "SHANGELAAAAAAAAAAAA"), and aesthetic, generally.
Also as in...
Yet another trailed-within-an-inch-of-its-devoid-of-all-actual-meaning-life speech on Brexit.
Also as in...
A million Twitter hot-takes on Cancer Research UK's controversial assertion that obesity might not be All That (précis: "FAT SHAMERRRRRRRSSSSSSSSS").
Also as in...
A Saturday afternoon stroll through London's Nine Elms 'Embassy Gardens' development.
Also as in...
Remembering to inspect the contents of the fridge before ordering another Ocado.
Finally, also as in...
Jim Chapman. Always. Forever. Especially that screenplay he's supposedly working on.
...gave up avoiding hat hair
When it's a choice between a) looking like you've been dragged backwards through every hairdresser who ever did you wrong, waterboarded, then electrocuted; and b) not losing both ears to frostbite, suddenly a hat doesn't seem like the worst thing in the world.